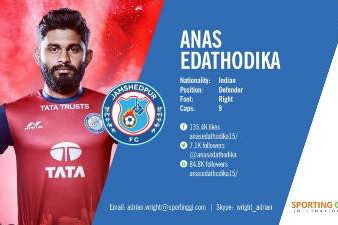 Sporting Group International India (SGII) are delighted to announce it has added another top player to its stable of footballers after an agreement was struck with Indian National defender Anas Edathodika to represent him.
Malappuram-born Edathodika had joined Jamshedpur FC in the first round of this season's draft, becoming one of the league's highest paid player in the process.
Previously the popular central defender has enjoyed stays at I-league sides Mumbai FC, Pune FC & Mohun Bagan and Delhi Dynamos in the ISL
Despite an injury ravaged season under the guidance of Steve Coppell, Edathodika has managed 549 minutes in 8 games this season.
"I am delighted to have signed with Sporting Group International who will look after my contractual affairs" Edathodika said.
SGII's CEO Adrian Wright was delighted that the defender had agreed to join our well established stable of players now signed to the UK and India based agency:
"There is no doubt Anas fits the model of player and character we want working with us. He's very ambitious, determined and well respected in the game."