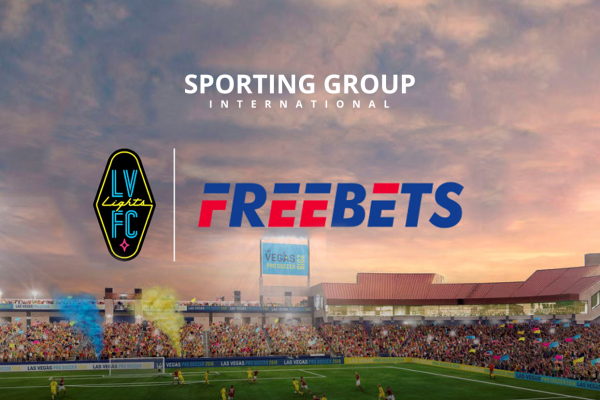 Global sports agency Sporting Group International (SGI) are delighted to announce they have secured their client Freebets.us, an agreement to become an Official Partner of the Las Vegas Lights FC for the remainder of the 2021 campaign.
This new agreement will see the Freebets.us branding around Cashman Field for the rest of the current season and they will also receive television broadcast exposure for all Lights home fixtures.
Between them, Freebets.us and Las Vegas Lights will create and run a captive social media campaign to engage fans aged 21 and over to enjoy gambling responsibly.
Freebets.us is an online free bet and casino bonus online sportsbook operating in Nevada, West Virginia, Tennessee, Michigan, Indiana, Colorado and New Jersey.
Brett Lashbrook, Owner and CEO of Las Vegas Lights, said "Las Vegas proudly serves as the mecca of gambling. We are so proud of our city and culture — and Lights FC is ecstatic to expand this relationship to our friends at FreeBets.us."
Leon Hughes, Director of Freebets.us, commented on the partnership "We are thrilled to announce the formation of this partnership between freebets.us and Las Vegas Lights FC. Having been live in the US for over a year now, we are eager to promote our catalogue of betting services to the ever- growing community of US bettors. With Las Vegas Lights FC's loyal and burgeoning fanbase, we are confident we can achieve this via this deal.

Providing users with information on safe, responsible gambling operators and deals is the priority. We look forward to continuing to execute our online sports betting and player engagement strategy over the coming months"
This announcement further expands SGI's portfolio of sponsorship activity in recent times after completing deals in the UK, Europe, India and the USA.
Charlie Bannister, Head of Sponsorship at SGI, added "We are delighted to announce that we have brokered this deal between Freebets and Las Vegas Lights. We all know Las Vegas is the home of gambling and this deal will give our client, Freebets, great exposure in the state of Nevada. I am
looking forward to seeing the Freebets logo on show at Cashman Field.'"
Additional information can be found at www.sportinggi.com, www.freebets.us and
www.lasvegaslightsfc.com