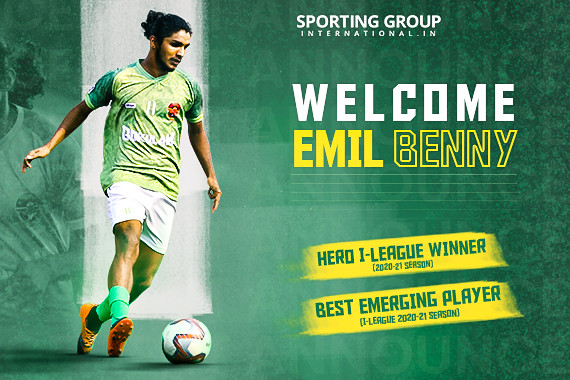 Sporting Group International India (SGII) are delighted to announce that they have signed Emil Benny, one of the rising stars in the Indian football circuit.
The 21-year-old was a revelation in the I-League last season and was adjudged the Best Emerging Player of the I-league. He was also awarded the Player of the Match in the deciding encounter against TRAU in the virtual final in March.
Emil's dribbling skills made him stand out as he started playing for SKMJ Higher Secondary School, Kalpetta. He started playing football in his village, Kalpetta and he also learned a great deal at the MSP Academy, Malappuram. From the academy, he was recruited by Gokulam's technical director Bino George, under whom he also played for Kerala in the Santosh Trophy qualifying tournament in 2019.
Emil who idolises Brazilian legend Ronaldinho will be under the radar of a number of Indian Super League clubs said on joining SGI, "SGI manages a number of players from Kerala like Anas Edathodika and Suhair and have heard all positives things about them, I feel confident that they will help me to achieve my targets."
SGII's head of talent management Pranay Kapuria was delighted that Emil agreed to join our well-established roster of players now signed to the UK and India based agency, said "We continue to invest in upcoming Indian football players and in Emil we feel we have someone who we can help in achieving his ambitions. It's our role to look after our players' on and off the field by offering them 360-degree support and guidance throughout their career."