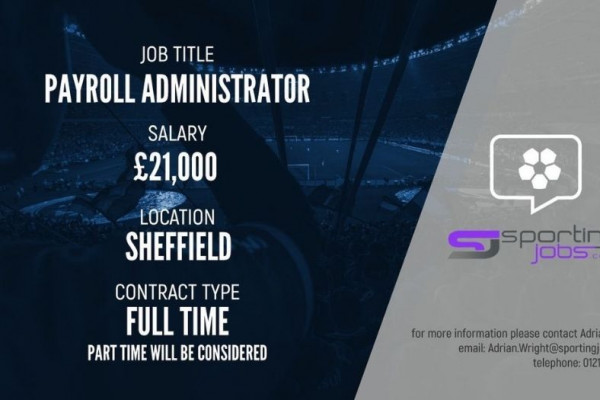 Our client has an exciting opportunity for a new team member to support the Payroll Manager in undertaking the payroll administration of the club and other associated business and client payroll, ensuring 100% accuracy of all records throughout the system.
They are looking for someone with strong attention to detail who can create and maintain employees' records, calculation of wages and salaries and applicable deductions based on employee attendance & timesheet records.
Although advertised as a full-time role, there is the opportunity to discuss the flexibility of part time hours.

Role Responsibilities:
To undertake payroll administration ensuring the correct application, accuracy and timescales are met for the payrolls.
Calculation and payment of National Insurance, Income Tax, Pension, Attachment of Earnings Orders, SSP, SMP, Student Loans and Year End Returns in line with legislation.
Payroll administration including New starter/leaver administration, overtime payments, travel and subsistence and other emoluments, variations to pay, absences, bonus calculations, allowances and any other payments relating contractual payments.
Maintenance of the Company's time and attendance and payroll systems.
Completion and maintenance of all relevant documents for payroll, accounting, and audit purposes.
To ensure all Payroll deductions are paid over accurately and on time
Preparation of HMRC payments & pension documentation, SSP1, etc.
Maintenance of Fleet records
Processing of Expense payments
Detecting & communicating anomalies
Assist in system configuration
To act as a point of contact for employees, dealing with a wide variety of queries, referring more complex queries to Payroll Manager
To produce monthly reports as requested on staff data
To ensure that all data is managed in accordance with statutory legislation and other guidance.
Year-End Returns Knowledge of Time & Attendance Systems

The following criteria are essential for the Role:
Previous experience within a busy Payroll Department
Experience in processing high volume varied payrolls & ability to work to tight deadlines
Strong knowledge and use of Microsoft packages
Excellent communication skills & professional effect with employees at all levels
Ability to work to tight deadlinesAttention to detail
Proactive can-do attitude
Team player
Knowledge of Sage Payroll
Willingness to learn
Have the ability to exercise discretion when dealing with confidential matters
Excellent telephone manner & interpersonal skills
High level of accuracy
Strong organisational skills & multi-tasking abilities
Knowledge of Time & Attendance Systems

The following criteria are desirable for the role:
Professional payroll qualification
AAT or relevant work experience
Knowledge of Time & Attendance Systems